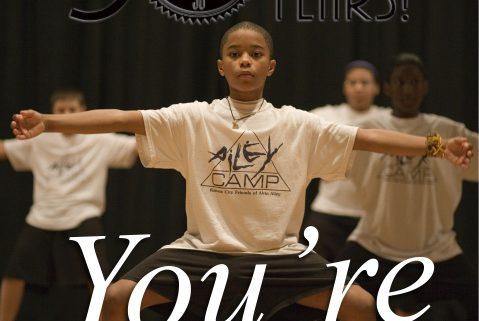 Since its inception, AileyCamp, a program offered through Kansas City Friends of Alvin Ailey (KCFAA), has impacted the lives of more than 5,000 youth in the Greater Kansas City area.  This year, the program celebrates 30 years and welcomes 200 kids for a summer of fun and education. 
"Celebrating 30 years of AileyCamp is a true testament to the need in our communities.  We are filling that need by providing inspiration and education to kids with social, domestic and academic challenges," said KCFAA Chief Artistic Director Tyrone Aiken.  "We are proud to honor the late Alvin Ailey's vision of bringing the best in arts education to students across the U.S."
AileyCamp is a six-week summer day camp that introduces students to the physical and mental elements of dance. Through dance education, campers increase their leadership skills and enjoy a variety of athletic and social activities. They learn that dance is challenging, fun, and helps them in school, in sports and in life!
This type of programming can be crucial to closing education gaps. By sixth grade, students in middle-income families receive more than 4,000 hours of afterschool and summer learning than students in low-income families. Each year, 100 boys and girls in Missouri and 100 boys and girls in Kansas are selected to attend AileyCamp for free (a $1,275 value per camper).  The cost is covered by KCFAA thanks to cash and in-kind donations from corporations, foundations, government agencies, community groups and individuals.
AileyCamp participants receive breakfast, lunch and daily dance classes — along with dance attire, dance shoes and a dance bag — as well as other creative communication instruction, such as spoken word, creative writing, visual arts, percussion or theater classes.
From day one, campers work toward an end-of-season presentation that highlights everything they learned, including that the arts require discipline, focus, flexibility and acceptance. "There are differences in all of the arts — how you can hear music or tell a story," Aiken says.
Despite the deep, creative engagement opportunities, Aiken says the foundation and focus of the camp is personal development.
AileyCamp runs May 30 through July 7.  Campers will present the Joy of Dance at the Kauffman Center for the Performing Arts Saturday, July 7. 6:00 PM.
"Our youth have so much potential. Every year we're looking for students to discover new possibilities and it's exciting to see them grow, to graduate and move forward on their path to success," Aiken said.
AileyCamp alum across the country have come back to support the program in one way or another.  Some have sent their own kids through the camp.  Others come back as teachers, staff members or volunteers.  With local, regional and national advocates for AileyCamp, Aiken hopes to see the program continue to grow – not only in the number of students they serve but in the amount of donations they receive.
Misty Copeland, the first African-American principal dancer with the American Ballet Theatre, was interviewed on CNN this week discussing the importance of inclusion in dance and is pictured with AileyCamp participants.
"It costs a lot of money to provide this motivational experience to our kids," Aiken said.  ""We invite everyone to welcome our campers at one or both of our open houses and learn more about AileyCamp."
2018 AileyCamp OPEN HOUSES
8:30 – 9:30 a.m.
Tuesday June 5
Paseo Academy of Fine and Performing Arts
4747 Flora Avenue, Kansas City, MO 64110
8:30 – 9:30 a.m.
Wednesday June 6
West Middle School
2600 N 44th St., Kansas City, KS 66104
Kansas City was awarded a competitive national grant from the Gannett Foundation to develop a replicable innovative summer program for middle school students in the KCMO School district. AileyCamp has received many awards and honors, including the prestigious Coming Up Taller Award from the President's Committee on the Arts and Humanities and three federal agencies.  In Nov. 2016, Michelle Obama presented AileyCamp Miami with the 2016 National Arts and Humanities Youth Program Award, the highest honor for creative, out-of-school youth development programs.
For more information on AileyCamp and all of KCFAA's programs, visit www.kcfaa.org 
https://kcfaa.org/wp-content/uploads/2018/05/AileyCamp-Open-House-Invite-e-mail-header.jpg
693
479
Tyrone Aiken
https://kcfaa.org/wp-content/uploads/2017/01/KCFAA-Logohalf-300x72.png
Tyrone Aiken
2018-05-29 16:07:54
2022-05-12 13:36:10
AileyCamp Celebrates 30 Years, Open Houses June 5 & 6