KCFAA Presents Ailey Trio
Kansas City Friends of Alvin Ailey (KCFAA) will present Ailey Trio in a free 60-minute public performance at the Gem Theater on Thursday, January 10 at 7:00 p.m.
Ailey Trio, established in 1993, is unique to Kansas City and an important part of KCFAA's arts education programming. Taking a short break from their rigorous schedule with Alvin Ailey American Dance Theater, three AAADT dancers bring their talent to KC to introduce Alvin Ailey's vision and legacy to students, supporters and community members.
"The trio is a great way to see Alvin Ailey American Dance Theater dancers perform the highly-acclaimed repertory straight from New York," said KCFAA Chief Artistic Officer Tyrone Aiken.
The Ailey Trio performance allows audience members to experience the elite dance style of AAADT and explore how dance is a connector to culture, physical fitness, sequencing and artistic expression. The program was created by KCFAA for Kansas City and replicated by AAADT to perform across the country.
A KCFAA Members-Only event will take place prior to the public performance. If you are a member, click here to RSVP by January 8, 2019. Members will be able to meet the Alvin Ailey American Dance Theater dancers, enjoy a light supper and network with fellow KCFAA members and community leaders!
Not a member? Visit www.kcfaa.org/join to join! Questions about membership? Contact KCFAA Interim CEO Melanie Miller at melanie@kcfaa.org.
MEMBER-ONLY EVENT
Time: 5:30 – 6:45 p.m.
Date: Thursday, January 10, 2019
Location: Gem Theater, 1615 E 18th St, Kansas City, MO 64108
FREE Public Performance
Time: 7:00 p.m.
Date: Thursday, January 10, 2019
Location: Gem Theater, 1615 E 18th St, Kansas City, MO 64108
Meet the artists!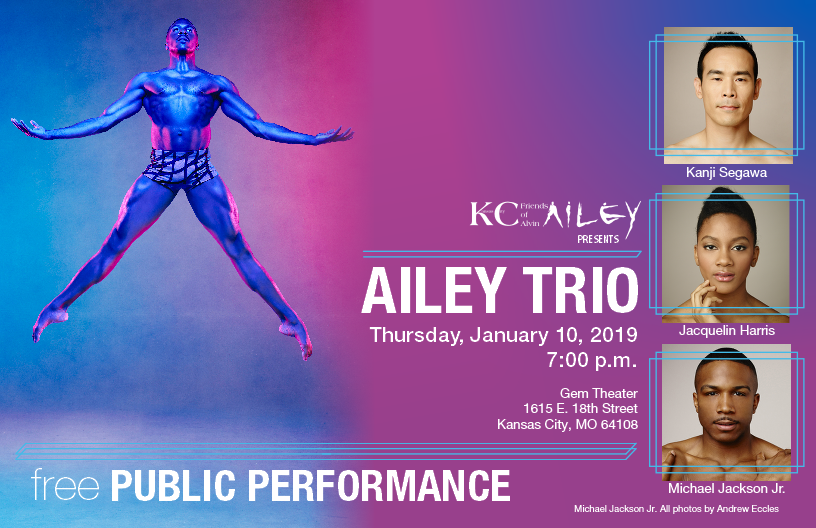 Jacquelin Harris (Charlotte, NC) received a silver ARTS award from the National Foundation for the Advancement of the Arts and was a Presidential Scholar in the Arts semifinalist. She graduated with honors from the Ailey/Fordham BFA Program in Dance. In 2016, Ms. Harris was named "25 to Watch" by Dance Magazine. She was a member of Ailey II and joined the Company in 2014.
Kanji Segawa (Kanagawa, Japan) came to the U.S. under the Japanese Government Artist Fellowship to train at The Ailey School. Segawa was a member of Ailey II from 2000-02 and Robert Battle's Battleworks Dance Company from 2002-10. He worked extensively with choreographer Mark Morris from 2004-11, repeatedly appearing in Mr. Morris' various productions with Mark Morris Dance Group, including as a principal dancer in John Adams' Nixon in China at The Metropolitan Opera. In addition, Mr. Segawa assists and works closely with choreographer Jessica Lang since 1999. Mr. Segawa joined the Company in 2011.
Michael Jackson, Jr. (New Orleans, LA) began his dance training at age 14 at the Duke Ellington School of the Arts in Washington, D.C., under the direction of Charles Augins. He became a member of Dance Theatre of Harlem Dancing through Barriers Ensemble in 2005. In 2006, he joined Dallas Black Dance Theatre and in 2008 joined Philadanco, where he also worked as Artistic Director of D3. Mr. Jackson joined the Company in 2011 and rejoined in 2015.
https://kcfaa.org/wp-content/uploads/2018/12/2019-Ailey-Trio-Email-header.png
528
816
kcfaa
https://kcfaa.org/wp-content/uploads/2017/01/KCFAA-Logohalf-300x72.png
kcfaa
2019-01-02 08:06:23
2022-05-12 13:34:41
Highly-Acclaimed NY Dancers Return to Kansas City