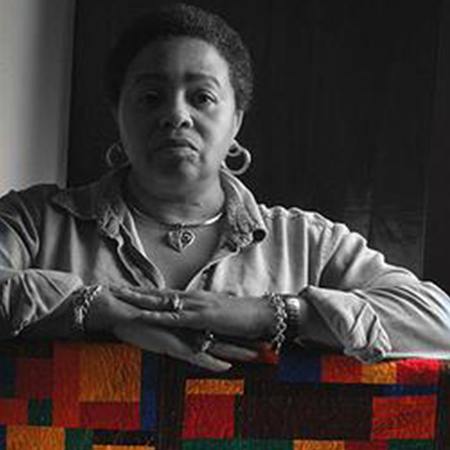 Sonié Joi Thompson-Ruffin by Jerry Taliferro
Sonié Joi Thompson-Ruffin
Contemporary Fabric Artist
Sonié Joi Thompson-Ruffin is a renowned contemporary fabric artist, fabric designer, author, lecturer and independent curator. Sonié has conducted workshops and lectures on African American quilting, she has been invited to exhibition her extraordinary textile artwork at the Renwick Gallery of the Smithsonian American Art Museum, White House Rotunda, David C. Driskell Art Center, the Nelson Atkins Museum of Art, Bethesda Medical Center, Spencer Museum , Leedy Voulkos Art Center, Holter Museum of Art, Miami Basel, Kansas City Museum, New England Quilt Museum, Mulvane Museum, KCAI Crossroads Gallery, Portfolio Gallery, Epstein Art Gallery, Carter / Kemper Art Center, UMKC African American Culture House, Bates College, Harvard University, Iowa State University, Lincoln University, Grace and Holy Trinity Cathedral, and a host of quilt guilds, galleries, and museums in the United States, Africa and Europe. Her artwork is held in museum, gallery, corporate, and private, collections in the United States, Africa, and Europe.
Sonié is a Charlotte Street Visual Arts Fellow, Art Omi Fellow, Storyteller's Inc. Visual Arts Fellow, Kansas Governor's Choice Artist, Kansas Master's Artist, Alliance of Artists Community Scholarship recipient, Arts KC Inspiration Grant recipient and Delta Sigma Theta Sorority Inc. Women of Courage Award recipient. She is a two-year finalist of the Women to Watch, National Museum of Women in the Arts in Washington, D.C.  
Her latest public art project appears on the front of the Kansas City Leon Mercer Jordan East Patrol and Crime Lab Campus. Sonié was the chosen artist to create the Nelson Mandela memorial coverlet by Grace and Holy Trinity Cathedral and the South African Consulate.
Sonié is the author of Soulful Art of African American Quilts and Opening Day: Celebrating the Life and Times of Negro Leagues Baseball. She is the designer of fabric collections Drums of Afrika, Jumping the Broom and My African Village. Her artwork has appeared in KC Art Studio, KC Star, the Washington Post and the cover of New Letters Magazine. Her fabric designs have appeared in McCall's, Better Homes & Garden, Quilting Quarters, Fabrigasm, and Fons & Porter magazines.
Sonié recently ended her residency as curator of the American Jazz Museum's Changing Gallery located in Kansas City's historic jazz district  She is the Founder of the African American Artists Collective, she presently serves on the Kansas City Artist Coalition Board and served three years on the Francis Family Foundation Small Grants Board.