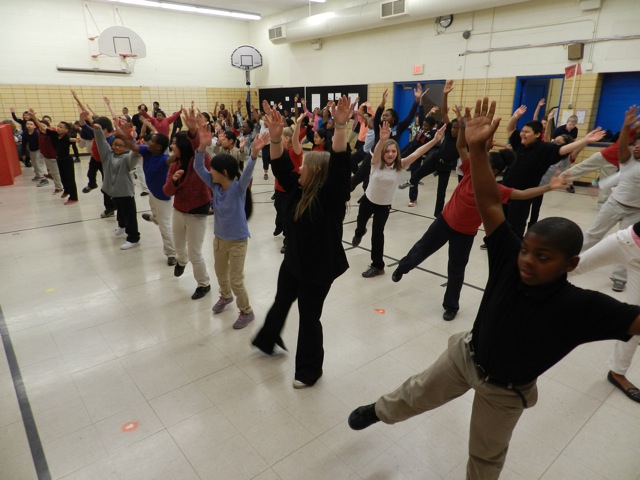 Students in the greater Kansas City metropolitan area can participate in dance workshops. KCFAA Dance Workshops reach more than 4,000 students annually.
A KCFAA teaching artist instructs a dance class for your students. The class consists of elements from Modern and Jazz dance techniques, two primary dance forms that shape many of Alvin Ailey's ballets. The workshop includes warm-up, jazz isolations, floor work, stretching, strengthening and choreographic instruction. Students learn elements of dance (mental alertness, sequencing, listening, following directions, attention to detail) and how they relate to developing successful life skills.
Grade Levels: Kindergarten through twelfth
Cost: $90/ workshop up to 30 students*
Maximum Class Size: up to 30 students
Dates/Times: Academic School Year, during school day
Class Length: 35 – 50 minutes per workshop*
Location: At Your School
Requirements: Staff/Chaperone must be present. *30+ students and/or 55+ minutes = additional workshop(s)
Contact programs@kcfaa.org to schedule a class
Discounts available based on the number of scheduled workshops.
MISSOURI LEARNING STANDARDS
FINE ARTS AREA: DA-Dance
STRANDS: Cr = Create; Pr = Perform (Dance, Music, Theatre); Re = Respond; Cn = Connect
KCFAA program study guides available to further facilitate learning goals.
DA:Pr4A4 Select, Analyze, and interpret artistic work for presentation.
Enduring Understanding/Concept: Space, time, and energy are basic elements of dance.
Essential Question/Process: How do dancers work with space, time and energy to communicate artistic expression?
DA:Pr5A Develop and refine artistic techniques and work for presentation
Enduring Understanding/Concept: Dancers use the mind-body connection and develop the body as an instrument for artistry and artistic expression.
Essential Question/Process: What must a dancer do to prepare the mind and body for artistic expression?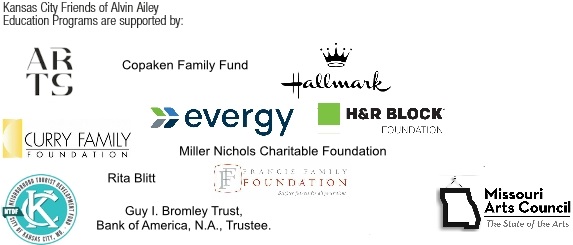 Educators: School Program Survey
Your feedback is important.