Dance Classes in jazz, tap, modern and ballet are taught by professional faculty from around the country who act as role models, using original curriculum created in 1989 with the support of Denise Jefferson, Director of The Ailey School in New York City.
Creative Communication classes at AileyCamp teach campers how to express themselves in a positive way through creative writing, visual art, and music (percussion) via a curriculum developed specifically for the program. Creative writing teaches communicating ideas through words and poems, visual art explores abstract ideas of color, space, and shape, and percussion explores ideas through sound. Creative writing is paired with either percussion or visual art, which alternate each year.
Personal Development classes instruct students on making the right decisions relating to conflict resolution, substance abuse, sexuality, peer relationships, self-esteem, health and nutrition.
Guest Speakers enhance goals of the program and serve as community role models.
Community Service introduces campers to the importance of philanthropy by engaging them in an organized volunteer experience made possible through partnership with other community service organizations. Campers give their time and energy to benefit their city in a meaningful way.
Field Trips, Friday Fun Days & Family Events provide a wide range of artistic, cultural and entertaining experiences for campers and their families.
Daily Affirmations
I will greet this day with love in my heart.
I am a winner.
I am in control.
I think before I act.
I will listen to learn.
I will pay attention with my mind, body and spirit.
I will treat others with courtesy and respect at all times.
I will treat others as I would like to be treated.
I will keep a positive attitude all day everyday.
I will not use the word "can't" to define my possibilities.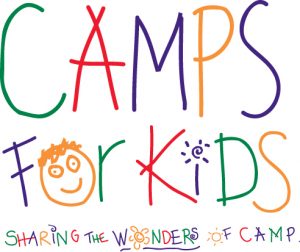 Photo, Copyright 2021 University of Missouri Kansas City Film 
History
In 1989, with assistance from the Gannett Foundation, KCFAA introduced an innovative summer program for middle school students in Kansas City Public Schools. AileyCamp was designed to reach urban youth, using dance to develop their self-esteem, self-discipline, critical thinking skills and creativity.  KCFAA expanded AileyCamp into the neighboring Kansas City Kansas Public Schools  in 1999.
AileyCamp has received many awards and honors, including the prestigious Coming Up Taller Award from the President's Committee on the Arts and Humanities and three federal agencies. Each year more than 180 students throughout the greater metropolitan area attend AileyCamp in Kansas and Missouri. There are ten AileyCamps across the United States.