KCFAA Stands Up For

Diversity

Equity

Inclusion
Kansas City Friends of Alvin Ailey celebrates and affirms Black lives and Black communities, and works to dismantle racism. Multiculturalism and intersectionality guide our efforts to combat and defeat systemic oppression. Our freedom and the fabric of these United States call on us to stand together in solidarity leaving no child, woman, or man behind. Please stand with us in the fight to create a just, free, and equitable society.
We are asking all like-minded individuals and organizations join us in a pledge to take action in furtherance of the goals of diversity, equity, inclusion and justice.
We pledge to:
Listen to others, especially those from historically marginalized communities
Educate ourselves about the historical and systemic burdens that disproportionately affect people of color
Read a book or watch a movie as a group then discuss
Support business that share our values
For organizations:
Regularly review and update human resources policies and practices to ensure they reflect current best practices
Review employee population to determine whether it reflects the community served
Review employee recruiting practices, and consider posting positions to agencies and media targeting communities of color
Create and support mentoring programs to ensure newly-hired people of color feel welcome and included
Provide employees of color opportunities to advance, and a voice in decision-making and hiring
Increase the diversity of governing boards, whether the organization is a business or a philanthropic entity
Encourage employees to vote, including taking time off work to vote if needed
Consider sponsoring a voter registration drive at your place of business
Establish a process for hiring more vendors of color
If open to the public, make sure all customers feel welcome
 If open to the public, review policies for seeking law enforcement intervention
Melanie Miller

Tyrone Aiken

Michael Joy

Debbie Brooks
Defining Terms of Diversity
Diversity – Ensures a variety of different perspectives to include race, gender, ethnicity, religion, age, cultural background, sexual orientation, languages, education and abilities. Companies with a more diverse workforce generally outperform their competitors with less diversity.
Equity – The quality of being fair or impartial
Inclusion – An environment in which all individuals are treated fairly and respectfully, have equal access to opportunities and resources and can contribute to the organization's success.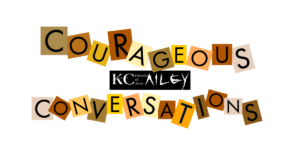 KCFAA presents COURAGEOUS CONVERSATIONS. Our new program challenges all to take a deep dive into understanding issues of race while tackling tough topics. Each month KCFAA hosts a virtual conversation, bringing together people from diverse backgrounds to share their perspectives and insight.