We Dedicate the 2018 AileyCamp Final Performance to Deborah Holmes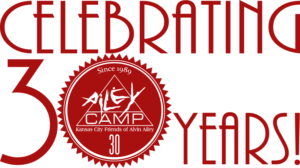 Deborah Holmes, a past Board Chair of the Kansas City Friends of Alvin Ailey, was a passionate activist committed to the lives of children, women, people of color, equity, and social justice around the world. She died of cancer in April 2018. Deborah had a passion for KCFAA 's mission serving: as Board Chair and as a Trustee for Alvin Ailey Dance Foundation; as Benefit and Gala Chairs; Relevé member; serving on the development, membership and marketing committees; and volunteering to interview potential AileyCampers.
After moving to San Francisco Deborah would return to Kansas City each year to support out annual Gala. Holmes provided critical leadership in KCFAA's move to the 18th and Vine Jazz District. KCFAA is here today because of people like Deborah Holmes. KCFAA dedicates our 30th Anniversary AileyCamp Final Performances to Deborah Holmes, as a way to continue her legacy of utilizing the arts to help people learn to respect each other and honor diversity. An award winning television news correspondent and analyst for more than 30 years, Deborah worked for local, national, and international news organizations covering an array of issues. At the time of her death, Deborah was the Chief Communications and Engagement Officer at the Women's Funding Network (WFN), one of the world's largest philanthropic networks devoted exclusively to the equality and rights of women and girls around the world. Those who had the privileged of working with her and the thousands she felt a deep responsibility for were all blessed by her many gifts. KCFAA's strength is bringing people together though the arts to achieve a better world for everyone.
Deborah believed in KCFAA so much that she gave a gift of more than $16,000 to KCFAA. We hope you will follow Deborah and support KCFAA or The Women's Funding Network's Women of Color Internship Fund with a gift in her honor.
Donate in Memory of Deborah Holmes