2020 Race, Place & Diversity Symposium
March 14, 2020
10:00 AM – 1:00 PM
Kauffman Foundation
4801 Rockhill Road, KCMO 64110
Kansas City Friends of Alvin Ailey (KCFAA) is proud to present our annual Race, Place & Diversity Symposium on Saturday, March 14 at the Kauffman Foundation.
KCFAA's FREE Diversity Symposium provides a platform that encourages a candid, open and healthy discussion on race, place and diversity. Featured panelists will explore relevant social issues and present an open dialog with participants to increase understanding.
This year, our symposium unites generations by discussing past and current events that impact diversity, inclusion and social justice.
Schedule
9:15 a.m. Registration/Check-in
10:00 a.m. Opening Remarks
10:05 a.m. Youth Panel Featuring: Faith O'Neal, Destiny Preston, Maya Scott, Jye Scott.
11:00 a.m. Light lunch
11:30 a.m. Performances by: AileyCamp the Group, KCFAA Professional Dancers, and Paseo Academy of the Fine and Performing Arts
12:00 p.m. Community Leaders Panel – Alvin Brooks, Alice Ellison, SuEllen Fried with Moderators Tyrone Aiken and Spencer Hardwick
1:00 p.m. Closing Remarks
One Future…Unite the Fight!
Admission is Free
A $5 Donation is Suggested
Community Leaders Panelists and Moderators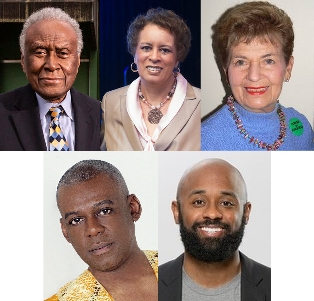 1
Alvin L. Brooks is a political and civic leader who received a BA in history and government and a Master's in Sociology from the University of Missouri-Kansas City. He served as a district police officer and later a detective with the Kansas City Police Department before leaving to join the Kansas City School District as a home school coordinator in the Department of Pupil Services. In 1968, after Kansas City's riot, Brooks was appointed to organize the first Kansas City Human Relations department and became the first Black department director in Kansas City government. In 1977, Brooks founded the grass roots, community-based organization AdHoc Group Against Crime in response to violent crimes in the African American community. Brooks was later appointed by President George H.W. Bush to a three-year term on the President's National Drug Advisory Council. In 1999, Brooks was elected to the Kansas City council representing the 6th District At-Large and was appointed mayor pro-tem. He was re-elected in 2003. In 2010, he was appointed to the Kansas City Police Department's Board of Police Commissioners and served as president for two years before being elected as a director on the Hickman Mills C-1 School Board.
Brooks has received numerous awards and recognitions including being named one of America's 1,000 Points of Light by President George H.W. Bush in 1989, and an Outstanding Kansas Citian by the Native Sons and Daughters in 2017.
2
Alice Ellison is a strong supporter for exposure to the "Arts", especially dance, and those endeavors that enhance the day-to-day lives of children and youth. Married to Alexander Ellison for 53 years, she has two adult children and four grandchildren. She has served as the VP-Community Investment for BC-BS KC, the Assistant to the Mayor on Community Affairs under Mayor Emanuel Cleaver II, as well as various management positions with Southwestern Bell Telephone. She is an active member of St. James United Methodist Church, serving on numerous outreach programs, as well as the District and Conference United Methodist boards. As a 34-year resident of the historic "Central City" Santa Fe neighborhood, Mrs. Ellison loves being a part of the urban core.
3
SuEllen Fried has been an advocate for children, psychiatric patients and incarcerated men and women throughout most of her adult life. She served as President of numerous state and national organizations including the Kansas Mental Health Association, Prevent Child Abuse America, and Reaching Out From Within – a self-help program in every Kansas prison. She has been a Volunteer with that program for 38 years. She is a Charter Member of the American Dance Therapy Association. She has received numerous Awards, including President' George H. Bush's 900th Point of Light. She was the first Co-Chair of AileyCamp over 30 years ago. Fried attended Washington University and is a graduate of Park University. She is the co-author of three books on Bullying and recently completed a book on Sibling Bullying. She has appeared on the TODAY Show, and CBS Sunday Morning. She proudly proclaims her addiction to witnessing personal transformations.
4
Choreographer, teacher, dancer and arts administrator, Tyrone Aiken began his dance training at the Cultural Arts Center and the Eglevsky School of Ballet on scholarship. He is also a graduate of the Ailey School's Certificate Program in 1983. Tyrone began his professional dance career with the Cleo Parker Dance Ensemble in 1983. Tyrone's choreographic credits include works for Dance Institute of Washington, "Kwanzaa" performed at the Kennedy Center, "Summerland" commissioned by Dance Theater of Harlem's Virginia Johnson. In Kansas City Tyrone has choreographed for The Lyric Opera, The Coterie Theater, The KC Symphony, Wylliams/Henry Dance Theatre, KC Ballet and the KC Rep.
As Director of Artistic and Educational Programs Tyrone created AileyCamp the Group in 1995, Setting the Stage in 1997 and a second AileyCamp serving Kansas in 2000. As Executive Director Tyrone successfully launched KCFAA's move to the 18th and Vine Jazz District in 2007 and lead KCFAA through a strategic plan with Michael Kaiser creating a new Festival and Symposium series. Tyrone currently serves as the Chief Artistic Officer of KCFAA.
5
Spencer Hardwick is the Chief of Staff at Teach For America Kansas City where he helps to recruit, train, and develop educators in the KC area. Prior to joining the non-profit, he was a fifth grade math teacher at the Ewing Marion Kauffman School. He also worked at Goldman Sachs as an institutional sales analyst in New York, NY. Spencer is a TFA alumnus and taught in Dallas through the Uplift Education charter school network during his corps years. He graduated from Harvard in 2011 with a Bachelor of Arts in Government and the University of Missouri in 2018 with a Masters in Educational Leadership.
The 2018 Race, Place & Diversity Symposium
Photos by Mike Strong